mmm delicious look what i found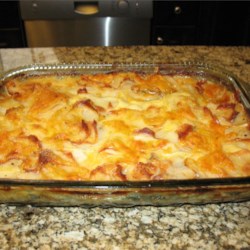 Ingredients
5 medium potatoes, peeled and thinly sliced
1 tablespoon olive oil
1 pound ground beef
1 onion, chopped
1 tablespoon tomato sauce
1 tablespoon Worcestershire sauce
salt and pepper to taste
1/4 cup butter
1/4 cup all-purpose flour
2 cups milk
1 cup shredded sharp Cheddar cheese
1 (6 ounce) can mushrooms, drained
2 tablespoons butter, diced
Directions
Preheat oven to 350 degrees F (175 degrees C). Place potato slices in a medium bowl with enough water to cover.
Heat oil in a medium saucepan over medium heat. Stir in ground beef, onion, tomato sauce, and Worcestershire sauce. Season with salt and pepper. Cook until beef is evenly browned and onions are tender.
In a separate medium saucepan over medium heat, melt 1/4 cup butter, and thoroughly blend in flour. Gradually stir in milk. Cook and stir 5 minutes, or until thickened. Reduce heat, and blend Cheddar cheese into the mixture. Season with salt and pepper to taste.
Line a medium baking dish with 1/2 the potato slices. Pour in the ground beef mixture, and top with mushrooms. Cover with the cheese sauce mixture. Top with remaining potatoes. Dot with 2 tablespoons butter.
Bake 30 to 40 minutes in the preheated oven, until lightly browned.

1 1/2 cups all-purpose flour
3/4 cup cake flour
1/2 teaspoon salt
1 tablespoon white sugar
1 cup unsalted butter
3 tablespoons shortening
1/4 cup sour cream
1/8 teaspoon lemon juice
5 large Granny Smith apples - peeled, cored and sliced
1/2 cup white sugar
2 tablespoons all-purpose flour
1/2 tablespoon ground nutmeg
1/8 teaspoon lemon juice
1 egg, beaten
Directions
Preheat oven to 350 degrees F (175 degrees C). Grease a 9 inch pie pan.
To Make Crust: In a large bowl, combine flours, salt and sugar. Cut in butter and shortening until coarse crumbs are formed. Mix in sour cream and lemon juice. Keep mixing until dough forms a ball; dough may be slightly lumpy, this is fine. Wrap dough ball in plastic wrap and allow to chill for 1 hour.
Once chilled, take dough out of refrigerator and cut it in half; keep one half covered and in the refrigerator. Roll dough to 1/8 of an inch. To lift pie shell, roll dough around rolling pin and then unroll into pie pan. Trim overhanging edges of pie crust.
To Make Filling: Place apples into pie shell. In a small bowl, combine sugar, flour and nutmeg; mix thoroughly. Sprinkle mixture over apples. Squirt lemon juice over apples. Place pie in refrigerator while top crust is rolled out.
Remove pie from refrigerator. Brush outer edge of bottom crust with beaten egg. Place second crust on top of pie; crimp pie shell edges together. Brush entire top crust with egg and cut 4 steam slots into it.
Bake in a preheated 350 degrees F (175 degrees C) oven for 45 minutes, or until golden brown. Allow pie to completely cool before serving. Serve warm with whipped cream or vanilla ice cream.